This article was originally published in Civic Ideas on February 17, 2016, and is the second in a two-part series.
NEW YORK — On artificial turf at the foot of Yankee Stadium, some 40 teenage boys kick soccer balls on a Saturday afternoon, laughing and yelling to each other in Spanish. On the sidelines, later arrivals banter while lacing up cleats and strapping on shin guards.
Their exuberance stands in contrast with the dangers that pushed many of them to leave their homes and head north.
Many of these teens were among the surge of migrant youth and families who arrived in the United States between fall 2013 and summer 2014. During that period, the U.S. Department of Homeland Security reports that it encountered a total of 66,115 unaccompanied minors on the U.S.-Mexico border, with 51,705 of them coming from El Salvador, Honduras and Guatemala. They came mostly to reunite with family and to escape violence in their home countries. Thousands of them ended their long journeys in New York, which mobilized resources to meet the increased need for legal and other services.
The danger of violence is real. Homicides increased by 57 percent in El Salvador in 2014 and Honduran officials reported a murder rate of 66 per 100,000 during the same year (compared with a 2014 rate of 4.5 per 100,000 in the United States). The statistics include violence perpetrated by gangs as well as killings by police and vigilantes. Numbers like these are why one of the soccer players, 16-year-old Salvadoran Josué Recinos who arrived in August 2014, remarked of his country, "They say that the dead don't even fit in the cemeteries."
Recinos's mother told him to make the journey north to join her in New York when gangs in his hometown of La Libertad started pressuring him to join them. He was 15 years old. "I didn't want to be involved," he said in soft-spoken Spanish, "and I don't like to do harm to people from my country."
His teammate, 17-year-old Junior Armando Marcelino from Puerto Cortés, Honduras, also arrived in August 2014 and has a similar story: "I was in danger in Honduras. The gangs threatened my brother and told him they were going to kill me." Marcelino has short beaded braids and is quick to crack a smile at a kind word or teasing from his teammates. He belongs to the Afro-Caribbean minority, the Garifuna, who live along the Caribbean coast of Central America. Like many Garifunas, he was targeted by a local gang that wanted to use him to blend in and sell drugs in black neighborhoods in his home city.
"The decision that you make to come from Honduras, which is more than —approximately 5,000 kilometers or more— to arrive here, it's not a decision that you make overnight," Marcelino said. "Many of us do it because of the pressure that we feel in Honduras from all of the danger we are in there."
That danger did not end when he left Honduras. Traveling by foot with his uncle and brother, Marcelino finally made it across the border after a treacherous two-month journey that some migrants manage in half that time.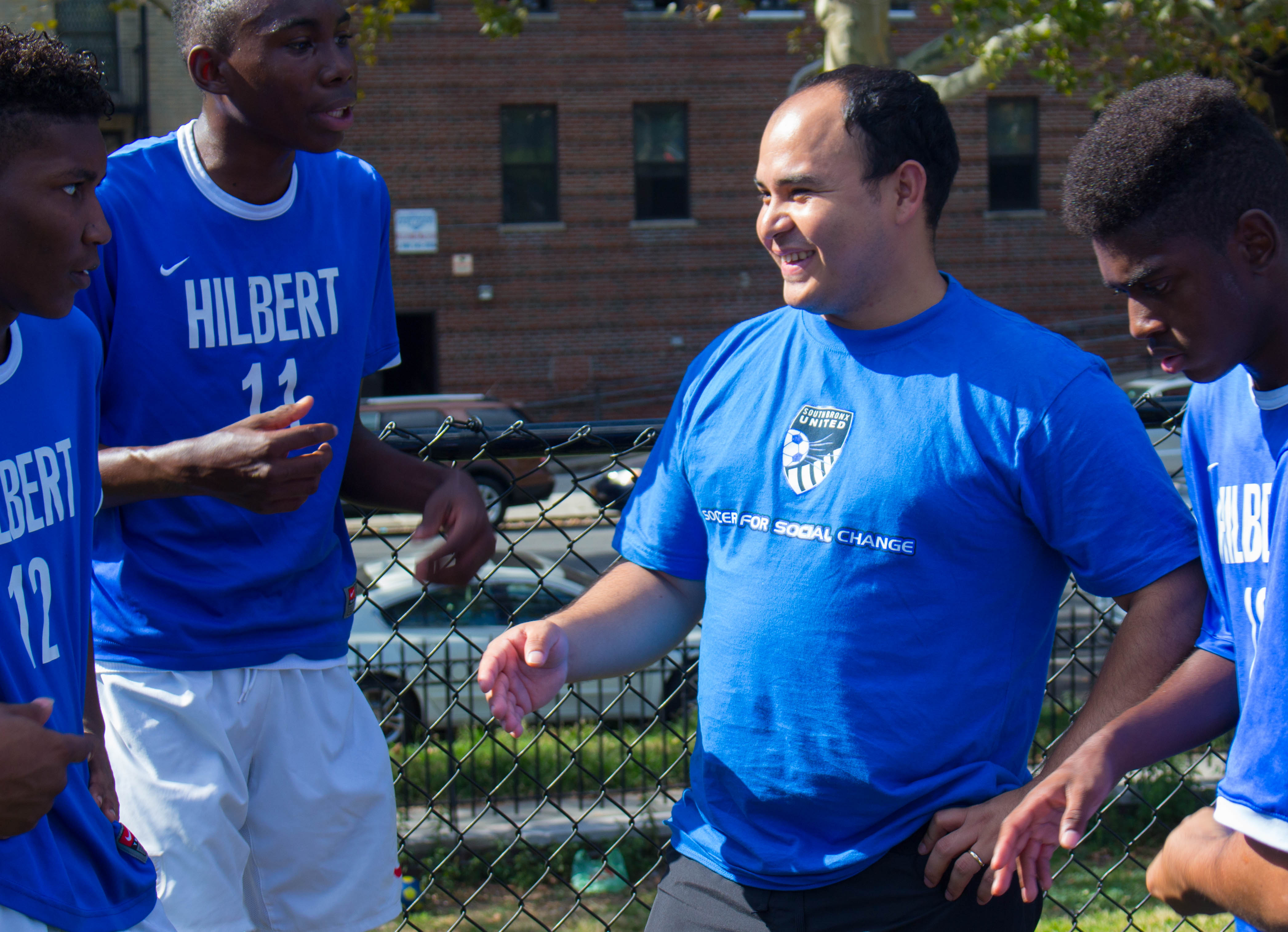 A 2008 anti-human trafficking law protects unaccompanied child migrants from countries other than Mexico and Canada from immediate deportation. After 72 hours, Homeland Security is mandated to turn them over to the Office of Refugee Resettlement (ORR) while they await an immigration hearing. The ORR released a total of 53,550 unaccompanied minors from all countries to family members or other qualifying sponsors in 2014. The vast majority of them came from Central America. New York State took in 5,956 youth, the second highest number of child migrants after Texas, which accepted 7,416 migrants during the same period.
While life in New York is undoubtedly safer for Marcelino and Recinos, who are both enrolled in high school and living with their mothers in the Bronx, it comes with overlapping challenges. Recognizing this, the city made efforts to support the thousands of young arrivals.
"Connecting these vulnerable children to educational, health and social services is vital to helping our families and communities gain stability," Mayor Bill de Blasio said in a September 2014 announcement. That same month, the New York City Council, the Robin Hood Foundation and the New York Community Trust allocated $1.9 million to provide legal and other services for migrant youth. They distributed funds among a coalition including the Legal Aid Society, New York Law School's Safe Passages Project and Catholic Charities.
Elvis Garcia Callejas is a migration counselor at Catholic Charities and also coaches the migrant youth soccer team. At one game, he calmly paced the sidelines, focusing on both the team as a whole and the young players as individuals. When a few boys started to argue loudly about the referee's call, he stepped in with a coolheadedness that quickly persuaded tense shoulders to drop and faces to relax.
Callejas relates to his players because he made the journey from his hometown of San Pedro de Sula, Honduras, in 2005 at age 15. "Once you leave your home country, you leave everything that you know in your life," he said. "You go to a new place where you have to learn a new language, a new culture, a new people, and that can be very difficult sometimes."
Young migrants with little to no English proficiency face the daunting task of enrolling in school. Like Marcelino and Recinos, many are navigating new family dynamics with relatives they may not have seen for years. Most experienced trauma in their home countries, on the journey north or upon arrival to the United States.
"The problem is not over once they cross the border," said Brett Stark, co-founder of Terra Firma, a medical-legal partnership program through Catholic Charities that focuses on immigrant youth. On top of everything, young migrants need to acquire legal status — a nearly impossible feat without a good lawyer.
According to records obtained by Syracuse University's Transactional Records Access Clearinghouse from the Executive Office for Immigration Review, 91 percent of migrant children without legal representation were deported in fiscal year 2014. Stark, who represents some of the youth who play for Callejas' team, stressed how complicated immigration courts and asylum offices are to navigate alone. "In an immigration case, it's not just about the facts of your own life," said Stark. "It's like, how do the facts of your life fit within these designated legal boxes?"
In light of the challenges, both Stark and Callejas praised New York City for its response to the influx of migrant youth. They hope it serves as a model for other cities, but noted a need for more resources to prevent kids from slipping through the cracks.
The two also believe in the healing power of the soccer field. "It's a little piece of home they can bring with them— I think it's a place where they feel safe," Stark said. "It's a place where they can forget about immigration court and where they can be kids again and have fun."