WRITTEN BY DANIELA CASTRO, SAMANTHA LEE AND RHEAA RAO
Joselyn Mendoza, hair tied up in a neat bun, looked completely at ease as she combed a customer's hair at the Parisien Beauty School in Queens, New York. On a brisk fall day last year, Mendoza was attending a cosmetology lesson. Students took notes and practiced blowing, dyeing, and combing hair on paying customers as a stern teacher looked on.
But for Mendoza, this wasn't an ordinary class. It was a safe space for her and her colleagues, who are part of the Trans-Latina Workers' Co-op, an all-transgender co-op in Queens that aims to empower transgender Latinas facing workplace discrimination.
The co-op is collectively owned and managed by four transgender Latinas, including Mendoza. They were enrolled in a yearlong cosmetology program –funded by a GoFundMe campaign– that ended this summer. Armed with their new skills, the co-op is currently looking for organizations to help them get their business off the ground. They hope to start work by next spring.
"As undocumented trans Latinas, we have no access to Medicaid or any such benefits. We have nothing," said Mendoza. "I think this co-op is very important for us to survive in this country. I've had a great experience here, learnt a lot, without fear of discrimination from my colleagues."
The complex interplay of race, socioeconomic class, immigration status and language ability figure into the trenchant discrimination transgender Latino/as face in the United States, particularly if they are undocumented. When it comes to two vital aspects of daily life –healthcare and employment– combatting discrimination becomes even more urgent.
According to the most recent National Center for Transgender Equality report, 28 percent of Latino/a transgender people live in poverty, earning less than $10,000 a year — nearly twice the rate of poverty in the general transgender population rate, and more than five times the general Latino population rate. The figure soars for undocumented trans-Latino/a immigrants: 43 percent of them report extremely low incomes.
"We found it very difficult to assist members of that community in finding jobs where they did not experience discrimination," said Saduf Syal, director of Workforce Development at Make the Road New York in 2015, the organization helping to set up the cooperative, explaining that the co-op model allows transgender Latinas to generate income in a safe setting.
As a transgender immigrant from Mexico, Mendoza had a difficult time in the workplace. When she first came to New York 17 years ago, Mendoza took up a job as a dishwasher.
"I experienced physical violence. I worked long hours for little pay," she said. While she was going through her transition, a co-worker noticed and sexually harassed her by touching her chest.
"He told the boss about my transition and two days later I was told to leave," said Mendoza.
Her experience is common amongst the transgender Latina immigrant community—54 percent report being harassed at workplace, while 38 percent indicate being sexually assaulted. While 26 percent of transgender Latino/as have lost their jobs due to bias, the number shoots up to 42 percent for immigrants.
Like many immigrants, Aury Martinez, 44, left Mexico at the age of 23 in search of a better life. Being transgender, Martinez came to the U.S. to escape Mexico's extremely sexist culture as well as its poverty, she said.
Life in the U.S. was rife with hurdles too. As an undocumented immigrant, Martinez lacked access to many basic rights taken granted by citizens: healthcare, insurance, education, employment and workplace rights.
She was initially afraid to seek medical help for the transition process because she couldn't afford it, was afraid of being discriminated and she spoke very little English.
She also ran into issues at the workplace. In one of her first jobs at a factory in New York, Martinez attempted to hide her trans identity for fear of being "found out." Though she hadn't yet transitioned, her boss noticed something different about her, she said.
"He made me do more difficult labor: receiving deliveries, carrying heavy boxes," she said. "I was depressed, I cried, but I needed the job so I put up with the situation."
Martinez is one of the approximately 267,000 undocumented immigrants among the adult population who identify as LGBT living in the United States today, according to a 2013 report by the UCLA School of Law's Williams Institute. The most recent National Transgender Discrimination Survey, in turn, found that transgender people of color — including African Americans and Latino/as — experience significantly more discrimination compared to the white transgender population.
Like Aury Martinez, Ana Andrea Molina, 39, is also a transgender woman from Mexico who started transitioning in the United States.
"I was living prisoner in the body of a boy that my family wanted me to be," she says of her life back in Mexico. There she over-drank and used high doses of cocaine, which led to two heart attacks. Even after crossing the border to Texas, she still suffered from depression and almost committed suicide twice, she says.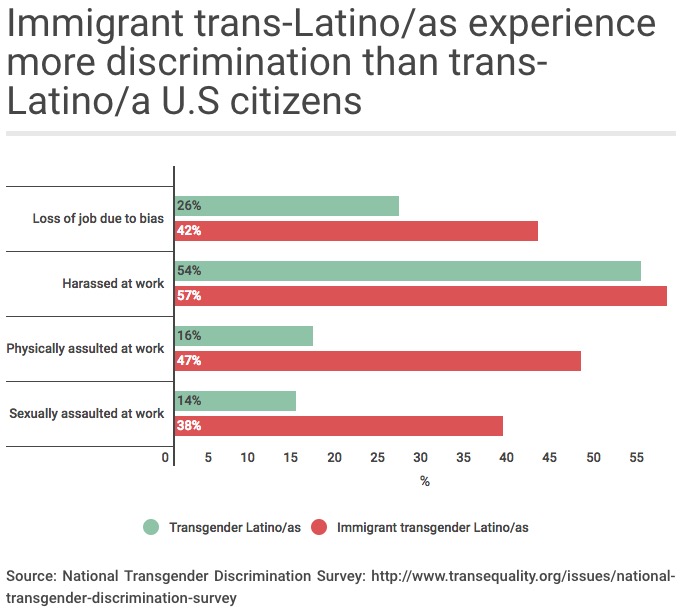 But there are bright spots in the U.S. healthcare system. According to Molina, although some services in Houston are still expensive and not many clinics provide services particularly to trans women, organizations like The Montrose Center and Houston Area Community Services (HACS) have bilingual staff and offer services in Spanish. She is also paying it forward: Molina, who lives in Houston, Texas, started Organización Latina de Trans en Texas, a group that fights for trans-Latina rights.
Martinez, who lives in New York, has also benefitted from community organizations – one helped her get Medicaid and offered translation services. Martinez now gets all medical services through Family Health Center in Jamaica, Queens. She pays a nominal fee for hormones, but she also attends therapy for domestic violence victims, which is free.
Make the Road NY, a community organization in New York, has teamed up with the Sylvia Rivera Law Project, a legal aid group fighting for gender justice, to expand the medical rights of transgender immigrants.
"Transgender people need more specialized treatment, says Felix Gardon, healthcare advocate at Make the Road. "Right now Medicaid covers basic hormonal treatment but not a spectrum of surgeries that they really need."
The rules are more ambiguous for undocumented transgender Latinas. Gardon says that they can access emergency healthcare, but require a certificate with a changed gender marker that is only obtained from the consulate of their home country.
However, with IDNYC, the new, free identification card for New Yorkers, obtaining healthcare has become easier for transgender immigrants – at least within New York City. An application for the card doesn't require a gender marker or a fixed address, for example.
In the past year, Mik Kindead from the Law Project has helped transgender Latinas apply for the card, which allows them to access non-emergency health services. While the perks apply only within the city, it's a great starting point for the undocumented transgender community here.