HAVANA – The hip-hop movement in Cuba has always maintained a voice of its own. Starting in the underground Havana scene during the 1990's, the beginnings of hip-hop were met with skepticism due to its American Bronx-bred roots. Still, it became a medium of expression for a generation that was enduring the "Special Period," a decade of economic crisis in the country. By sampling U.S. popular hip-hop songs before finding a local style, Cubans created a movement that continues to thrive.
In 1996, women's voices in hip-hop also burst unto the scene.
"I began in 1996, around when the hip-hop movement in Cuba began. They were all men and I noticed that there were no women and I said 'let's make a group that is all women,' and that's how feminine rap started," Janet Díaz, known by her artistic name La Faraona del Rap, told Latino USA. Díaz went on to form the group "Instinto," the first female rap group in Cuba. She said that it was difficult to get ahead, or to even record. It wasn't until 1998 that the Cuban government accepted the genre as part of Cuban culture and created the "Agencia de Rap Cubana" (Cuban Rap Agency) which created a record label and magazine about the genre. Still, the group "Instinto" created a name for itself in the early days of the genre and what locals continue to refer to as a movement.
"I would listen to TLC, Salt-N-Pepa, Queen Latifah, MC Lyte and I loved it. What I listened to saved my life, because when I sing I feel free," La Faraona says.
For many listeners outside of Cuba, Latin Grammy-nominated artist Danay Suarez is the face of women's Cuban hip-hop. Krudas Cubensi, a queer feminist rap duo, have also garnered an audience outside of Cuba. Yet within the country, other Afro-Cuban women and LGBTQ folks are taking the mic to sing unapologetically about the black woman's experience and feminism, particularly in popular spaces of the hip-hop scene like La Madriguera, where Ana, a newcomer to the genre, performed during the Diaspora Sol conference.
Ana, whose full name is Ana Mayda de Los Reyes Ferrera Granado, says that though the genre has been dominated by men, she has been able to find a voice as a young woman who is also part of the LGBTQ community, though she doesn't take on any labels.
"When you're rapping in a group of men, you have to stand out because of how the movement is, they feel 'we're men, rap is for us,' so we have to work harder than they do," she says. Yet she has received support and hopes that her music will also break in other countries, "Here in Cuba the [hip-hop] movement is strong, there is good representation… I work for my people, for Cuba, but I would like others to see the talent that Cuban women have in hip-hop."
Latino USA spoke to some of the women in the hip-hop scene during the Diaspora Sol conference, which brought together Afro-Cuban women to discuss social issues. From pioneers like La Faraona del Rap to upcoming artists like Ana, these are five women who have made a name for themselves in hip-hop.
Janet Díaz, 43, says that struggled a lot during the early days of the genre.
"We struggled a lot, we didn't even have music to sing, they didn't believe in us because it was completely masculine. We were rejected in a lot of places, but our insistence was so strong, we had a lot of discipline. We rehearsed almost every day even on Sundays," La Faraona told Latino USA.
La Faraona also has advice for younger folks joining the genre: "My message is to please express what they want to express, not what others are doing. Have an identity, whatever that may be, as long as it's theirs, from the way they dress to how they express themselves.
Ana, 20, just began performing as a solo artist in March. "I got involved in hip-hop because I was at a park with some friends and they were rapping a song, and they had their own rap group. One of them said 'I like your style, would you like to join us?' and I responded 'sure'," she said about how she got involved.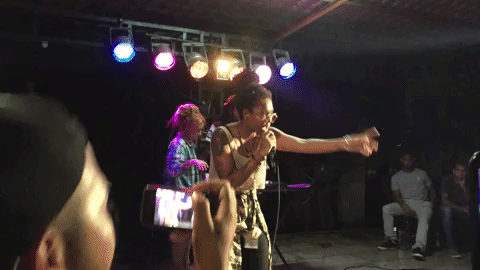 She hopes to add to the scene with lyrics that are both social and personal, "Overall, I talk about everything, from social topics to personal ones, I like to mix. For example, if I'm discussing a social topic, I also like to include the things I feel because people can identify with that."
Damarys Benavides Criollo, 38, known artistically as Hezfi-ba, has been freestyling for as long as she can remember. She grew up in Diez de Octubre, which she calls "the Bronx of Cuba," with parties happening right outside her door. She helped form one of the early groups of evangelical hip-hop. "I've been performing for more than 20 years, since I was a little girl. There were many places in the 90's that had hip-hop parties, and I was very young so they wouldn't let me go out, but I saw everything from the balcony so I would stop and look."
To her, staying true to her identity is key when making music. "I love being who I am, even if hip-hop has been dominated by men, I'm not going to lose my style or stop being me. There isn't a role for any gender."
Yamai Mejía Hernandez, 33, known as "La Fina," is one of the most prominent upcoming voices in the hip-hop scene. She is also the director of "Somos Mucho Más" ("We Are Much More"), an initiative that centers women and hip-hop. To her, rapping has been a conduit to discuss social issues, and to fight machismo. "Somos Mucho Más is the only women-led rap project in Cuba. It's community-based, Afro-Cuban, Afro-descendant and aside from that, we touch on specific topics like sexism. Almost all topics have to do with violence against women, since most of the women in the project have been survivors of violence or rape, like me."
To La Fina, the musical genre is a lifestyle, "Hip-hop to us is like a school. Most of us who sing Cuban rap, it's a lifestyle. So for me it's that, it's just a way of life."
Rosa Díaz Herrera, 32, is known as Rositica. She sings in a rap duo where they mix hip-hop with Afro-Cuban folklore genres.
"We like mixing the Afro-Cuban culture with rap, and now we're incorporating new tendencies like trap with traditional Afro-Cuban music," she says.
Rositica explains that hip-hop has been a source of empowerment: "I got very excited about this lifestyle, hip-hop, and everything that is attached to this incredible culture because I have learned a lot."
She's grateful to hip-hop for helping her find her voice.
"It's changed my way of being, my way of thinking, now I feel more confident, free, happier, and more sure of myself. I say what I think and what I truly feel…I owe a lot to hip-hop."